The Luftschloss (ger. "castle in the air") is a self-made, three-in-one piece of my Vol-Biv gear. It serves as
shelter,
sleeping-bag and
glider compression bag.
In bivvy-trips with the paraglider you are spending more time on the ground than you'd think. Therefore, the weight of your equipment when in the back-pack is at least as important as the performance of your glider. A go-to weight-optimization factor of bivvy-pilots is to replace the sleeping bag and wrap up in your wing. Naturally, in a multi-day adventure you also come across rain, wind and severe weather – a reliable shelter is mandatory as well.
There are only a handful vol-biv pilots world-wide. Not surprising there is not a lot of gear made for vol-biv use. In fact afaik there is none, besides light wings and harnesses with larger storage space. To reduce weight and get rid of a few other personally-annoying aspects of my current gear, I decided to solve a few problems at once by reviving grandma's Gritzner GG sewing machine.
Motivation
By my experience, sleeping in the wing is comfortably warm down to around 0°C. The annoying thing though is that you need to unpack and re-pack your glider often. Always in the morning, when the grass is wet… Also the lines get tangled and knots occur, resulting in a swearing-session on next launch, when you need to spend ages sorting and checking the lines.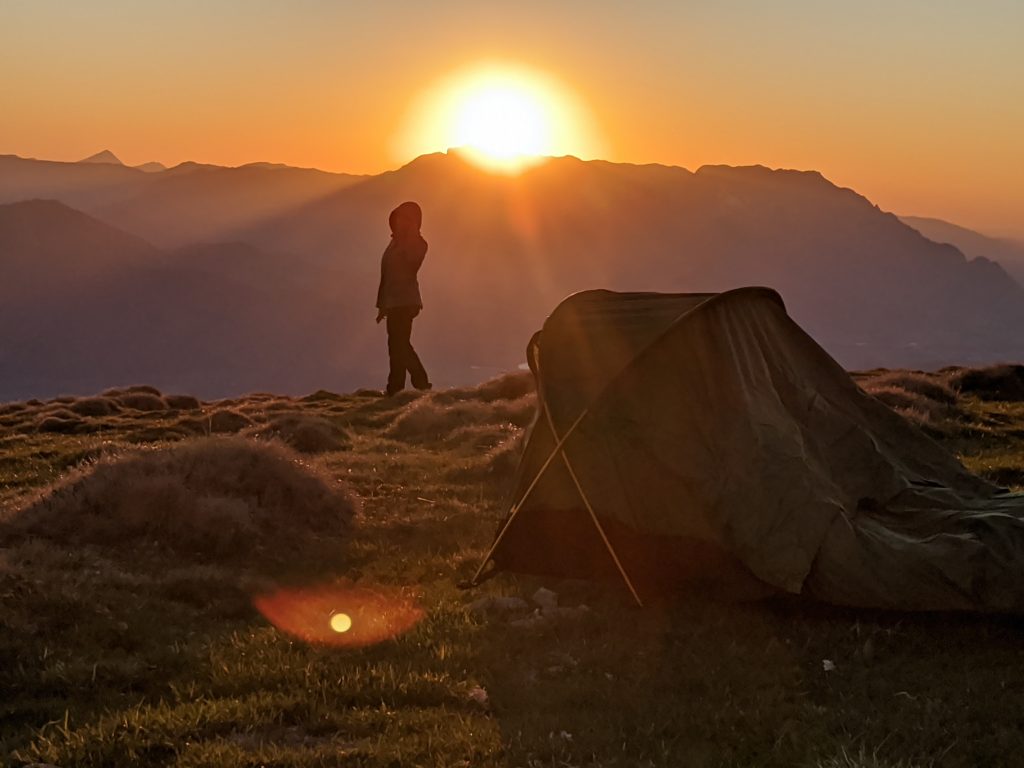 Another thing which annoyed me personally in past trips was a few aspects with my tent (a Nordisk Telemark 2 LW ). Due to the large footprint and its non-freestanding nature, it is sometimes challenging to pitch in rocky, high-alpine terrain. You have to improvise and wrap guylines around rocks or boulders, because its hard or impossible to get the pegs into the rocky ground. Also, nights in the mountains tend to be quite windy. A normal tent is often flapping like crazy, which doesn't really help to get a good night's sleep. Yes, it's more spacious than Luftschloss, but the advantages end when the wind is hauling and the tent keeps slapping you in the face all night. Although my tent is tested to withstand winds of up to 17.5m/s (63km/h), I often wondered in much calmer air whether it's going to take off soon with me inside or simply collapse. This is not exactly a situation inspiring a good night's sleep.
Luftschloss-Facts
Built to withstand severe weather

Alpine thunderstorms
Foehn-Storm (> 100kmh winds)
Rain from all sides

Pitching

small footprint, stealthy

trivial and fast to pitch in high-alpine terrain
can be pitched in rain without getting wet on the inside.

Wing and harness do not get wet in rain or morning dew
Fast to pack
Mosquito-proof
Comfy and confidence-inspiring
Technical data
| | | | |
| --- | --- | --- | --- |
| type | bivvy-tent / shelter | | |
| pitch | self-standing | | |
| seams | sealed (Seam Grip + FC) | | |
| poles | NSL featherlite | 8.05mm, pre-bent | |
| weight | 1071 g | | |
| comfort temperature | 0 … 10 °C | 3.5 seasons | |
| wind | > 100 km/h … hopefully. | | |
| – | – | – | |
| | floor | top | |
| material | Ripstop PU | 2.5 layer laminate | |
| color | black | olive | |
| gas-permeability | – | 15.000 g / m² / 24h | |
| water column | 10.000mm | 20.000 mm | |
Features and Details
The Luftschloss is built for adventures in the air and functions by exploiting a rather useful and often neglected property of air – insulation. A paraglider is essentially a piece of cloth forming many cells (82 for my Skywalk X-Alps 3). If you allow the glider to breathe and don't compress it, those cells fill with air and provide a great insulation layer, especially when stacked by folding the glider loosely.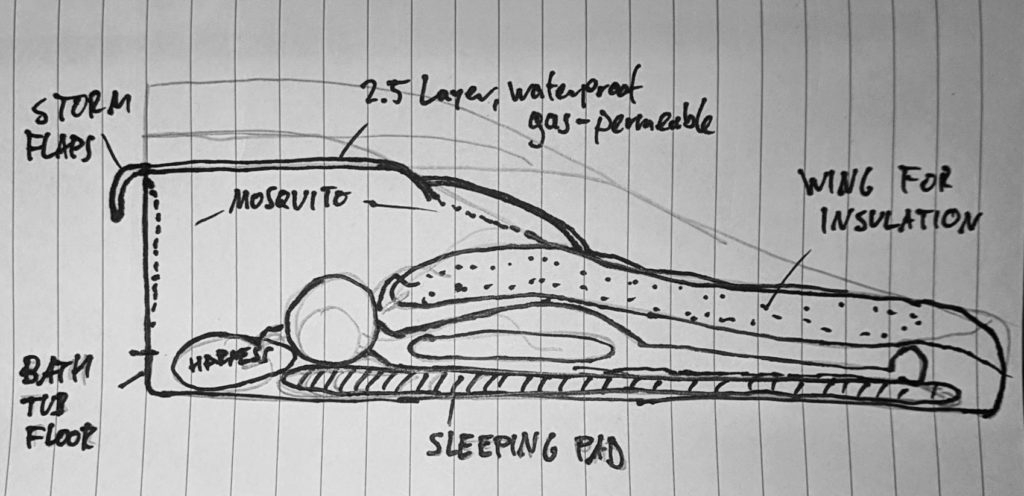 The wing acts as an insulation layer and the Luftschloss puts it into structure, also hosting a sleeping-pad (Inflatable Therm-a-rest sleeping pad). This forms a comfy and warm sleeping system – just as a normal quilt-like sleeping-pad and a mattress would. The harness can act as a pillow. A zipper between wing-chamber and the inner part of the tent allows to pass through the main lines of the glider. This way the harness stays connected to the wing at all times.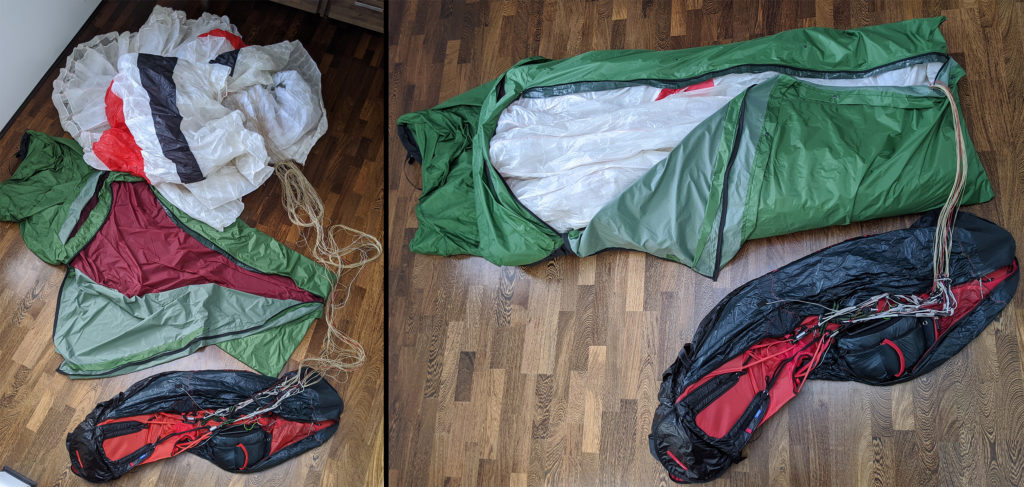 As many pilots, I prefer my wing staying clipped to the harness at all times. This reduces the risk of entangled lines and risers and allows safer take-offs in tricky terrain or high-wind situations. It is rather normal in bivvy-flying to not get a chance for thorough pre-flight checks and launches are often tricky, rocky and vegetations or wind makes laying out the glider simply impossible.
Packing the glider in Luftschloss is simple. Open the zippers of the wing-chamber and loosely pack the wing in several layers. Then pass the harness from the wing-chamber to the interior of the tent and zip-up.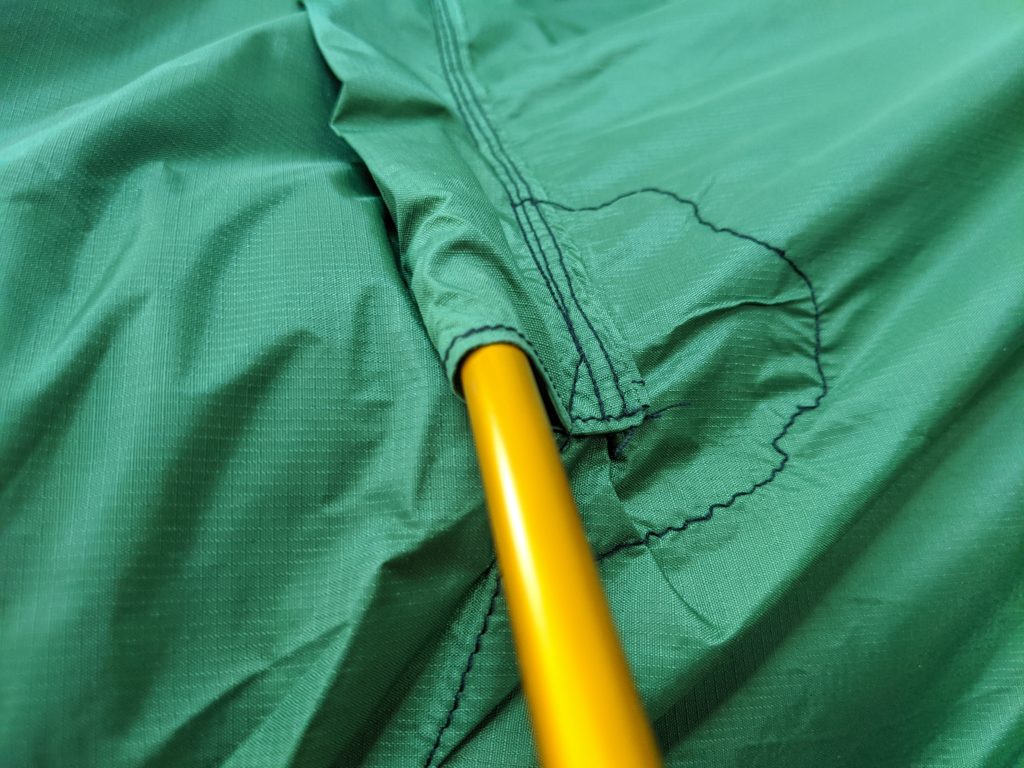 Those who already experienced an alpine thunderstorm know that in these conditions rain comes from all sides and wind-speeds of 100kmh and more are possible. In such situations, you want a reliable shelter for you and your gear. The Luftschloss offers relatively generous head-space, which enables to also put all gear inside the shelter.
Another important aspect of the Luftschloss is good ventilation to avoid moisture and damp nights. For dry nights, the front door has a mosquito-net and on top of the wing-chamber the Luftschloss can be opened up as well for better ventilation. Of course, also mosquito-net there to keep the bugs out.
It's a completely different story in bad weather. For this, all zippers are protected with storm-flaps, which are held in place by strong snaps. Especially the front-zippers have a generous storm-flap, which can be tightened by pulling a rubber-band from the inside of the tent. This front storm-flap covers the zippers well enough to open them a bit also in severe weather to improve ventilation.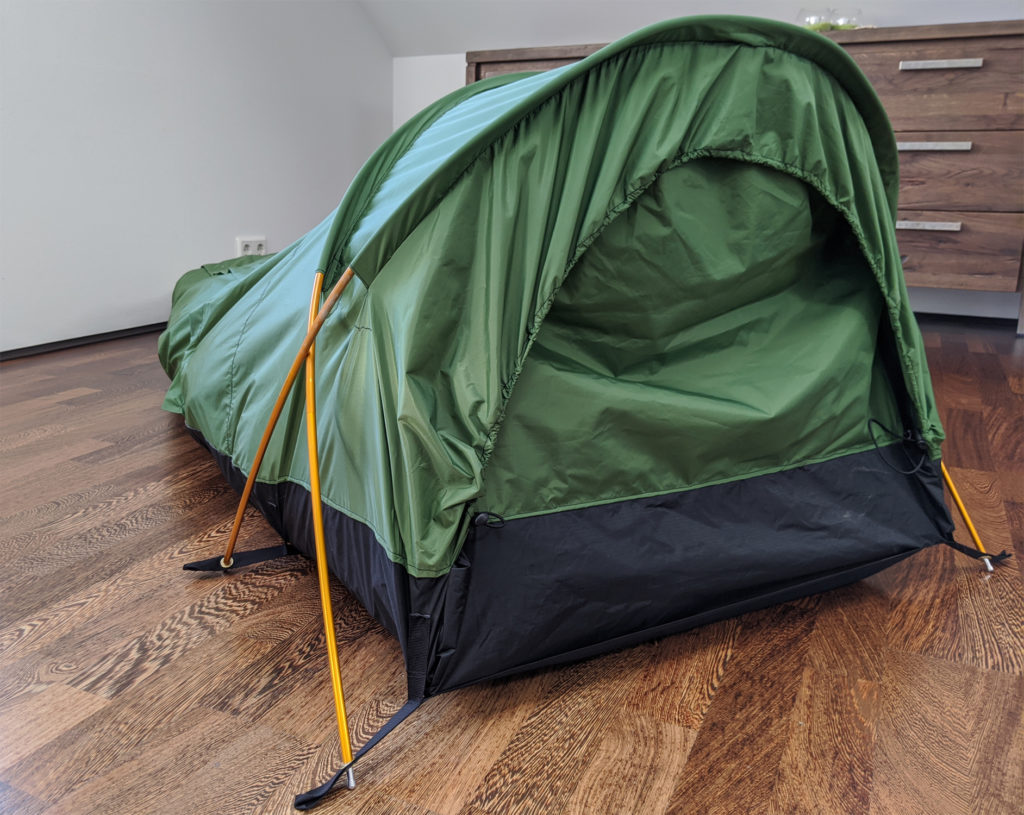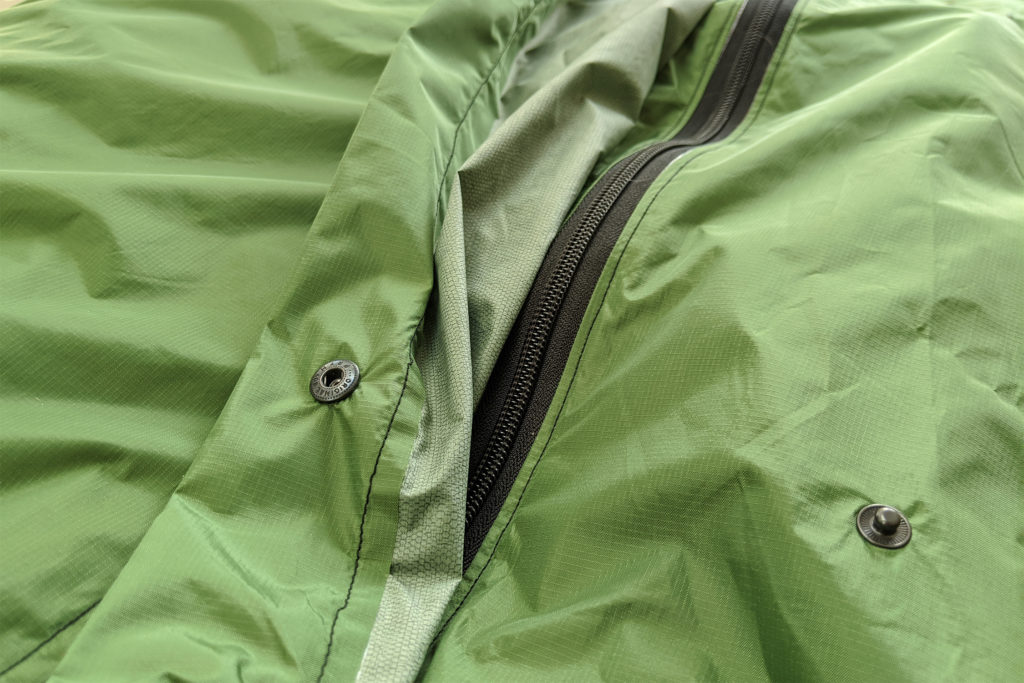 The wing and harness can remain inside Luftschloss when being carried in the backpack. Luftschloss also acts as a packsack and allows to compress the wing and harness simultanously. Luftschloss storing wing and harness, cooker and gas, helmet and sleeping pad easily fits into a 50L backpack, leaving still some space for clothes, food and other gear.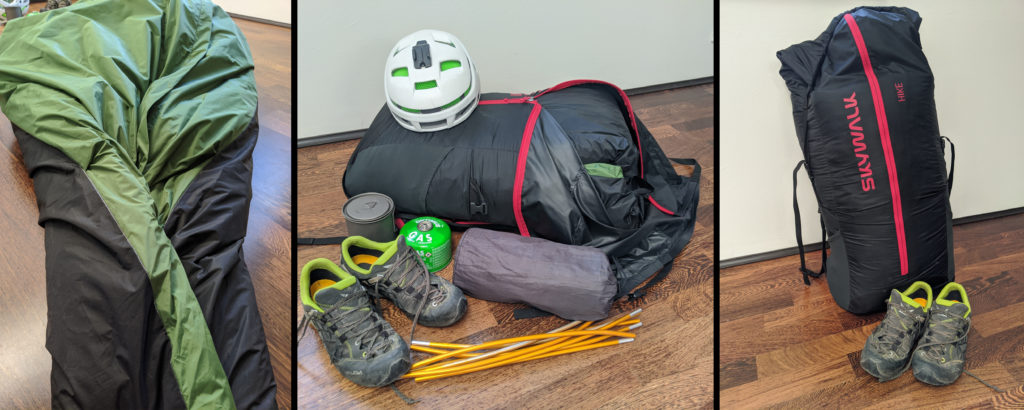 In total, the gear shown here weighs in at 9.9kg (including a protector in the harness!). My complete packing-list can be found here.
Testing
I tested sleeping covered only by the glider quite a bit – both, in real situations during my 2018s Patchwork vol-biv trip and in simulated conditions. As surprising as this is, it is possible to spend winter-nights just on a sleeping pad and wrapped up in the glider. And no, you don't need to wear a lot of clothes. I slept on my balcony at -5°C. Super-comfy and cuddling warm! I wore a T-Shirt and pyjamas (+ a beanie) – amazing if you ask me. So using the wing as insulation layer of the sleeping bag is easily sufficient for 3-4 seasons.
Open Tests:
Rainy night outside
Thunderstorm on a mountain
High-wind situations